Introducing "Lenny"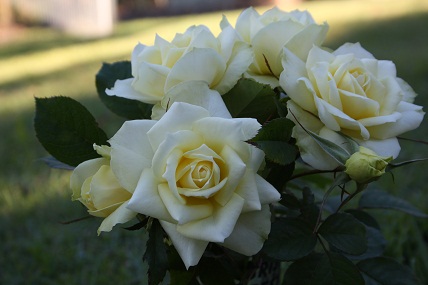 Mr Len (Lenny) Johnstone joined the Queensland Rose Society in 1956 and rapidly became a rose enthusiast. Len has been growing, showing and judging roses for over fifty years. He is always keen to impart his knowledge to others. In May this year (2012) he was a judge for the Queensland Rose Society Autumn Rose Show.
Len discovered and introduced "Bridget's Joy" named for his wife.
<![if !vml]>
<![endif]>In recognition of his contribution to the Queensland Rose Society he was made an honorary life member in 1983 and received the Australian Rose Award from the National Rose Society of Australian in 1992.
Len was a foundation member of the Roselovers' Association which celebrated its 10th Anniversary in February 2012.
Len was the first person to show mini flora roses at the Queensland Rose Society shows and firmly champions them as the rose of the future.
This lemon yellow mini-flora rose was chosen in recognition of its strong growth and abundant floral display that holds its colour on the bush. The cross was done in October 2008 and this rose has been the strongest performing mini-flora in my trial garden.
This rose is not yet commercially available.
Queensland Rose Bulletin

Current Edition is July 2012.
On this website you will find articles and links on hybridizing, propagating by cuttings and budding and you can download every copy of the Queensland Rose Bulletin.
Please enjoy our site.
Paul
Paul Hains